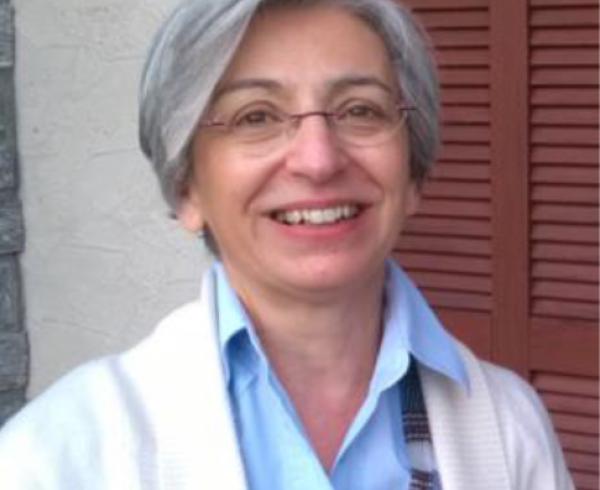 Professor Donatella Taramelli
INSTITUTION / COMPANY:
Department of Pharmacological and Biomolecular Sciences, University of Milan
Donatella Taramelli is born in Perugia, Italy, on February 24, 1953. In 1976 she graduated in Biological Sciences at the University of Perugia, Italy.
Brief chronology of employment
1976 PhD in Biological Sciences (110/110 cum laude ) University of Perugia(Italy)
1978-81 Visiting Fellow , NCI, NIH, Bethesda, MD, USA
1982-85 Research Associate, National Cancer Institute, Milan, Italy
1985-87 Research Associate, Dept. Exp. Medicine University of Rome "La Sapienza"
1987-89 Visiting Scientist, Div. of Rheum Clinical Immunol. Univ. of Maryland at Baltimore,USA
1987-99 AssociateProfessor of Pathology,School of Pharmacy,University of Milan.
2000- present Full Professor of Pathology, School of Pharmacy,University of Milan.
2011-present President of the Biotechnology Classes both graduated and Master classes
 
 
Research Grants

1992-93– P.I. project "Pathogenesis of opportunistic mycosis in neutropenic patients treated with anti-tumor chemotherapy" from Italian Cancer Res. Ass.
1996-99 – Associated Partner EU with JRC, Environment and Climate DGXII-ESCY for research on "Early indicators of contact sensitisation to haevy metals"
1996 - P.I. -WHO/ TDR grant entitled "Anti -malarial activity of Fe2+-porphyrins: pilot study for the development of a screening method for new drugs"
1997 – 98 P.I. WHO/TDR grant entitled "Oxidation of Fe(II) protoporphyrin IX and depolymerisation of plasmodia haemozoin: new targets for antimalarial drugs"
1997-99-00 P.I. Nat Res Progr on AIDS, ISS "New in vitro human models for studies on the pathogenicity of P. marneffei, an opportunistic fungus in AIDS
1997 - P.I. PRIN MURST Cofinanziamento 1997-99 on malaria
2001 - P.I. National Projects PRIN 2000 "Molecular, immunological and pharmacological analysis of the interactions between parasites, hosts and vectors." with prof M.Coluzzi.
2001 – Int. Coop. Italy- South Africa, Project on "Identification of new molecular targets for the synthesis and screening of new drugs active during the intraerythrocytic stage of malaria parasites" with Prof. T. J. Egan , University of Cape Town, South Africa.
2003- P.I. National Projects PRIN 2003 "
2003-07 Italian representative in the EU COST Action B22-Drug development for parasitic diseases
2005-2011 WP manager- EU IP Project 18834- ANTIMAL- Development of New Drugs for the treatment of Malaria (ANTIMAL) .
2006-2008 Cluster head-Italian Malaria Network, financed by Compagnia di San Paolo-Torino Italy
2008-2011 Italian representative in the EU COST Action BM0802 Life or death of protozoan parasites
2008-2011 Research participant PRIN 2008 Leads ad attività antimalarica di origine naturale: progettazione e sintesi di molecole multitarget derivate dalla statina o dall'acido usnico. PI Sergio Romeo
2009-2011 WP manager- EU Project CRIMALDDI- Coordination rationalization intergration of antimalarial drug discovery initiatives
2009-2014- PI NIH-RO1 Research Grant with Univ. Massachusetts on Innate Immunity to Malaria
2011-2015 WP manager Gametocyte Assay for Malaria (GAM) for Novel Anti-Transmission Drugs financed by the Bill & Melinda Gates Foundation
2012-2015 PI National project PRIN 2011 on The skin inflammatory responses to infectious agents and injury: a transcriptomic, post-transcriptomic and functional study at the single-cell level. (SKINFLAM)
2014- Italian Representative MC Substitute to COST Action CM1307. Targeted chemotherapy towards diseases caused by endoparasites

Research subjects/ platforms

1-Drug discovery & screening (in vitro chemosensitivity assays against P. falciparum strains using the pLDH method) for the identification of new compounds with antimalarial activity(sexual & asexual parasites), transmission blocking activity and SAR studies. Development of novel screening assays against parasite sexual stages using transgenic parasites. Preclinical tests of new antimalarials.
2-Studies on the mechanism of action of antimalarials active during the intraerythrocytic stage of malaria parasites
- Identification of inhibitors of the haem detoxification process and the formation of haemozoin using a spectrophotometric microassay (BHIA, beta-haematin inhibitory activity ) developed for medium /low throughput screening, recently adapted for robotic platforms
3-Studies on the mechanism of toxicity of quinoline and artemisinin antimalarials (Role or oxygen and iron on drug action).
4-Pathophysiology of parasite-host relationships (effects of parasite products on the host innate immune response, immunomodulatory role of HZ, mechanisms of accelerated senescence of RBC in relationship to anemia)
5-Effects of artemisinin derivatives on angiogenesis and erythroid differentiation ( K562, CD34+, human precursors)

Products
Italian patent application N MI 2003A002044 for novel quinoline derivatives with antimalarial activity, under PCT extension
Bibliography: 144 papers in international journals, 308 congress presentations, 14 book chapters.
TOPIC: Recent achievements and persisting gaps in the malaria drug discovery process
LECTURES AT: